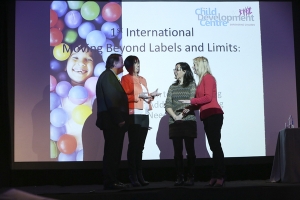 Saturday March 22nd saw the launch of our first International Child Development Conference. Over 200 hundred attendees packed into the Burlington Hotel, Dublin to hear a range of speakers from Ireland and the US.
The conference showcased many examples of our groundbreaking multidisciplinary approach to child development.
Speakers included Sheila Frick OT and creator of highly successful integrative sensory processing protocols such as Therapeutic Listening and Astronaut Training. Sheila's talk outlined the millions of sensory messages that our bodies constantly process and how when these messages get scrambled, it can lead to many developmental challenges for our children. Her integrative approach has helped thousands of children overcome tremendous odds to reach their true potential. Pauline Moran OT, gave many examples how she has successfully used these innovative protocols in her practice and has seen significant improvements for the children that she treats.
Dr Goodwin McDonnell presented a fascinating insight into the types of challenges he sees in children in his General Practice. Goodwin has been using biomedical interventions with patients with developmental challenges for many years and has observed very encouraging results when used in conjunction with tailor-made diets. Dr William Shaw gave an in depth view into the range of underlying biomedical conditions that can give rise to major learning challenges. He explained the variety of tests available that allow him to get to the root cause of many neurological developmental delays and the treatments available.
Speech and language therapist, Karen O'Connor explained her bottom-up, top-down approach to treating kids with sensory challenges and communication difficulties. Her innovative mix of sound therapy, biomedical interventions, traditional speech and language therapy and sensory processing protocols has changed the lives of the thousands of children and families with whom she works.
Anne Cronin provided many insights into the powerful results using cranio-sacral treatment and education specialist Dee Hogan gave a very practical workshop on simple, yet highly effective behaviour management techniques for dealing with difficult and challenging behaviour.
The feedback from the audience was universally positive during the lively question and answer session. Many parents expressed renewed hope for their children's futures because of this new way of approaching the myriad challenges they face every day.
This was an auspicious start to our planned series of conferences – keep an eye on our website for information on upcoming events.
Here's a sample of their comments:
Most fulfilling conference I have ever attended.
 This conference exceeded my expectations – a vast amount of information under one roof.
 I found it a very beneficial, excellent conference.
 Encouraging to hear there is hope out there.
 Absolutely brilliant so informative thank you.
 Giving a fuller picture of diagnosis and treatment.
 Very satisfied lots to take away and think about.
 Lots of practical information to use.
 Very informative and thought provoking
 The opportunity to chat to other parents in a similar situation to myself was very helpful and reassuring.
 I feel I have a new path of treatment to explore for my son.